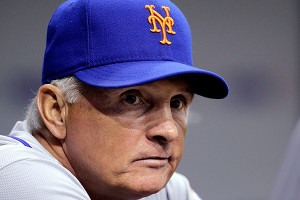 Love him or hate him, Terry Collins begins his fifth season at the helm of your New York Mets in 2015.
He has a combined 304-344 record, and that isn't too bad considering the talent the Mets' front office has handed him.
I am one of his harshest critics, though. I actually think he is directly responsible for some of those 344 losses through sometimes inexplicable in-game strategies and moves. I can't stand the way he handles the bullpen, and sometimes I feel he is just asleep at the switch in critical game situations.
All that being said, it has come time for him to helm a winner.
The Mets have, at long last, a legitimately good team. Not great, but good enough, given the competitive landscape out there to vie for a playoff spot in the National League. Because of this perception, he has zero room for error.
The Mets start off the year playing a lot of intradivisional games. In April alone they play twenty games against Eastern Division opponents! While I think if the Mets go anything less than .500 in their first 10 games Collins will come under fire (yes, it will happen), to come through that twenty game stretch anything less than .500, the bells may start tolling.
Yes, Sandy Alderson has already been quoted as saying Collins is safe. ESPN reported as much in this piece. But talk is cheap, and with the Mets internally handing their players Take the Damn Thing T-Shirts (referring to the division), expectations are already very, very high from within.
Hope your ass isn't already sizzling, Terry.