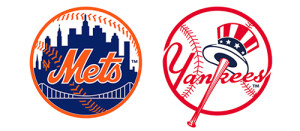 The "in-season" Subway Series has lost its luster over the years and a lot of its original excitement. Some of this is due to the fortunes of the Mets and Yankees as contending ballclubs, some of it due to its eventual lack of novelty.
Sure, it's always a draw for fans who want to cheer on their team and sometimes get in the face of the opposing fanbase, but for the most part, it just isn't what it once was.
Well, due to circumstance, this year's Citi Field version of the series, held for the first time in late September, has some intrigue, some juice if you will.
The Yankees come into this series 3.5 games out of first place behind the surging Blue Jays. Although they still command a 4 game lead in the wild card race, I'd imagine the Bronx Bombers will not be satisfied with that with first place in their division still within their grasp and a series with Toronto following the Mets.
The Mets have had a hiccup on their steamroller ride to the pennant the last two games, showing pitching vulnerability and an almost full stop to their juggernaut offense. They still hold a healthy 8 game lead in the division, but anyone feeling this will be a cakewalk is deluding themselves. They want to put the pedal to the metal and get this division wrapped up, as well as establish themselves as "New York's team."
Yes, the Yankees are somewhat diminished. They are missing Mark Teixeira and will also not be able to start Alex Rodriguez due to the lack of a DH in the Mets' home park. However, you can never count the Yankees out. Ever.
Missing in action these days on the Mets side is one Lucas Duda. Since his back issue put him on the shelf, he has returned as a non-entity. With other guys like Yoenis Cespedes possibly cooling off for a few days, this is when he needs to step out of the void and show up. It's crunch time, dude. Abide already.
The series begins with Steven Matz on the mound for the Metsies countered by the undisputed ace of the Yankees staff Masahiro Tanaka. He is tough and if the Mets come out with the same bats as they had in the last two games of the Marlins series, they will have a long night. Matz has had a very nice return coming off a long stint on the DL for a minor lat tear, giving up just 3 ER in 10.1 innings.
The Saturday, middle-game match of Noah Syndergaard vs. Michael Pineda should be an interesting one. Thor has pitched fairly well lately and is coming off a nice outing last time out, giving up a skinny earned run over 7 innings. while striking out 8. Michael Pineda, on the other hand, has allowed 4 or more ER in 5 of his last 6 starts.
The Sunday night ESPN annoying game time of the week has CC Sabathia against 5 innings or so of Matt Harvey (or so we are led to believe). You'd think the last game would be in the Mets favor, but Sabathia has been very solid in this last 6 starts, giving up a total of only 10 ER in that span. And, with all the hoopla over innings limits, who knows what to expect when the lights are shining brightest on the young Mr. Harvey, who looked gassed in his last start and has allowed 11 ER and 17 hits in his last two starts. Ouch, babe.
Both teams have something on the line here, and I am pretty confident this will not be like more recent Subway Series events here in New York. This one counts, and I have a feeling it is going to be a great series to watch, no matter what the outcome.
Let's Go Mets!