Ok, I have digested the last couple of performances from the Mets, the Nationals' recent surge, and the Marlins' role in this stretch drive.
First, the Nats winning tonight while the Mets are idle is not a given. The Marlins are NOT pushovers, and I am not saying that just because they played us tough. They played the Nats tough, too, and are 10-4 in September.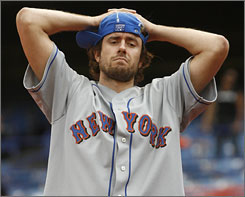 What I see as worrisome from the Mets side is the pitching is really starting to show some cracks. The young arms like deGrom and Harvey look tired and you can't expect Bartolo Colon to throw shutouts every 5th or 6th day. He's 42, c'mon.
Also, the last two games have hown diminished production from the bats. They were bound to cool down sooner or later, and it is probably temporary, but you start to wonder if these guys are starting to press, or, worse yet, are believing they can throw their gloves on the field and win.
The Yankees series may be a good thing for them — a little juice to restart their engines, so to speak. I honestly wish they didn't have to play them right now because the Yanks are always a tough team and right now have a lot to play for. They will definitely come in all guns blazing (albeit without A-Rod, due to no DH in an NL ballpark).
Though, with all of this in mind, and the seemingly insurmountable lead the Mets have, statistics be damned. I cannot ignore this disgusting sensation of nausea in my stomach as it relates to the debacle that was 2007. Hell, a win by the Nats tonight and there will be only a ONE game differential between 2007 and now: 7 up with 16 to play. The only thing that is truly different is the Mets actually PLAY their pursuer three times at home to end the season.
Now, while some may find that comforting, I find it terrifying. If, through some horrible miracle, Washington makes it to NY on the final weekend of the season with a deficit of 3 games or less, Mets fans (like me) will be popping Xanax and chugging Jack Daniels simultaneously. It wouldn't be the first time Mets fans were treated to a home-field, front-row seat to misery and dispatch from the playoffs.
Mets fans have long memories:
In 1998, needing one mere victory to secure a wildcard spot, the Mets lost their final 5 games, three against the hated Braves, to miss the playoffs.
In 1999, they ALMOST blew it, but for the grace of God and an el foldo from the Reds, they hung on and won the wild card in a 163rd game.
No need to rehash 2007. Its infamy is well-chronicled.
In 2008, this Mets team, up 3.5 with 17 to play, was knocked out of first by game 150 and eliminated from wild card contention on the last day of the season.
ON EDIT: Thanks to the Marlins, who are playing great baseball, the lead in the NL East going into the weekend series with their cross-town rivals is back up to "8 games up with 16 games to play."
I shudder to think that last part will become the "new" Mets fan phrase to denote a flopping finale.
Agita, folks. Still plenty of agita.